Pop quiz! What is the single most important asset you have in your business?If you guessed your email list, then come on down and get your free mini-fridge, you're right!
I hate to break it to you, but your follower count don't mean squat. That number and allllllll of the people that it represents are owned by Marky Z. It's rented property and Facebook can evict you at any time if they decide you have broken the rules.
But your list…is owned and operated by you, yourself, and…you.
Here's the best part though, not only is your email list the most secure way to grow your business, it's also the most effective!
Email marketing literally has the highest ROI of any other marketing tool. In most industries it's over 4000% (that's not a typo)!
"THE BEST TIME TO BUILD A LIST WAS YESTERDAY…THE NEXT BEST TIME IS TODAY."
– AMY PORTERFIELD
The queen has spoken.
If you haven't spent some considerable time focusing on growing your list…well, my friend, 2020 is your year!
If you've been around for a hot minute, you probably know that the best way to grow your email list is a really good lead magnet (opt-in, freebie, it's all the same thing)—essentially, a piece of valuable information that you offer your readers for free in exchange for their email address.
When it comes to a lead magnet, you could just throw one up without a strategy, you could make a new one every month and hope that people want what you have to offer, you could throw a crap ton of money at Facebook ads…
OR you could create the fastest growing lead magnet that was voted Most Likely to Go Viral in highschool…A quiz!
Speaking of quizzes, wanna find out your Marketing X-Factor? You know, that thing that makes everyone love you and want to throw their credit card at your face? Here ya go!
LET'S TAKE IT BACK FOR A MINUTE…
The year was 199something, and I was in my room rocking my vinyl swishy pants and a poorly fitted halter top, sitting below my favorite JTT poster, with my nose buried deep in a seventeen magazine trying to figure out if my crush secretly liked me back. Spoiler alert: he did not (mostly A's).
A good quiz is irresistible. Sure, it's a great way to kill some time when you're scrolling Buzzfeed at 1 a.m. and you just need to know what Disney princess you are, but a quiz gives us something so much deeper…a box to fit in.
The ability to sort the world around us into categories is a fundamental developmental milestone (something we first learn to do around 19 months old.)
And the need to sort, understand, and label ourselves is a universal human need. It's why everyone knows their Myers-Briggs personality, Enneagram number (side note: stop taking online Enneagram quizzes, they're wrong 86% if the time), and the Starbucks order that most represents their love life.
People want to know what box(es) they fit in, and if you can be the one to tell them which box is their box, well them boom, instant trust!
So the quiz-taker learns something about themselves in a fun, interactive, interesting way, but what does it do for you?
HOLD ON TO YOUR UNDERPANTS, I'M ABOUT TO BLOW YOUR MIND.
WITH A QUIZ YOU CAN:
…segment your list to increase open rates and sales conversions
…create specialized funnels to different people in your audience
…get some seriously valuable market research
…grow your list faster, with higher quality leads
YOU IN? I FIGURED!
This is the part where you know I'm right but creating a quiz feels too tech-heavy, confusing, and overwhelming. Don't you basically have to be a psychologist, where are you going to get your big idea, and how the heck do you even create a landing page???
The FREE software that makes quiz creating so easy, my toddler could do it.
I'm going to give you my top tips for creating the most profitable quiz for your business, then I'll show you exactly how to do it in just a few easy steps.
STEP 1: DEFINE YOUR GOALS.
What do you want to do with your quiz. Obviously growing your list, but what information do you want to get out of your quiz?
Do you want to segment the different sections of your audience (e.g. ideal clients for your course vs. ideal clients for your 1:1 services vs. people who follow you to learn how to do what you do)?
Do you want to get specific market research for future copywriting purposes, product development, marketing strategy, etc.?
Do you want to set up different funnels to sell specific products to the right people?
STEP 2: WHAT KIND OF QUIZ ARE YOU GOING TO CREATE?
A Personality Quiz (the most popular!) This is your, "What type are you?" quiz. Each question will correlate to a result and give you a final result based on your answers.
An Assessment Quiz. This is your, "How much do you know about ___?" This will give you a score and a personality associated with the accuracy of the answers.
A Score Quiz. This one measures the person taking the quiz on a predetermined scale. Think of this one as your, "Are you ready for ___ yet?" quiz.
You can customize a quiz from scratch (which is so much easier than it sounds) using your own branding, or choose from hundreds of ready to go templates to make your life a little easier.
I recommend mapping the whole quiz out in a Google Doc first. It's always easier to type on a blank page than in the platform. It's easy to make any edits and changes you have once you start creating your quiz inside Interact, but you'll be able to see everything much more clearly if you put it all in a doc first.
STEP 3: START WITH THE END IN MIND.
Figure out where you're going so you can reverse the process and figure out how to get there. Come up with the results first and then you can come up with the questions after the fact. Keep it simple, 3-4 results, you don't need to get crazy here.
You want your quiz topic to be both relevant to your business and interesting to your ideal client. So instead of going straight to, What Friends character are you?, ask yourself these questions first:
How, specifically, do you help people?
Why do your clients/customers come to you?
What is something your readers consistently struggle with?
What different "types"of people seem to be in your audience?
Jot down your answers and see if anything sparks your big idea. Just get a feel for the general direction you want to go in.
STEP 4: CREATE YOUR QUIZ CONTENT!
The first step will be your cover page, you'll put the title of your quiz, an eye-catching image (uploaded from your computer or selected from their library of royalty-free images), and a description.
Make sure to mention the benefit they get from taking the quiz in the description to entice them to click on through.
The next step is to map out the results page. You don't have to have the descriptions fully fleshed out yet, but I would suggest at least having an outline of each result before you move on to the questions.
Now it's time for the best part: your questions!
Get creative and have fun with it! Now that you know what the answers are, what fun ways can you use to learn what you need to know to give them the right outcome?
Here are a few ideas to get the wheels turning:
What TV show are you?
If you were a happy hour cocktail you would be…
Your idea of a perfect Friday night would be…
I give you $10k, you spend it on…
The most frustrating part about (problem you solve) is….
Your business is…
When it comes to (your niche), what's most important to you…
If you were an animal, you would be…
What is your biggest frustration with…
If you had a uniform it would be…
In high school you were voted most likely to…
A candle company packaged your signature scent, it smells like…
The worst thing someone could say to you is…
If you had a superpower, what would it be?
Your dream vacation is…
Your close is full of…
Your favorite song is…
You can add interest to your questions by adding photos, using specific copy, keeping it light and fun! Shoot for 7-10 questions so your ready can complete the quiz in one quick sitting.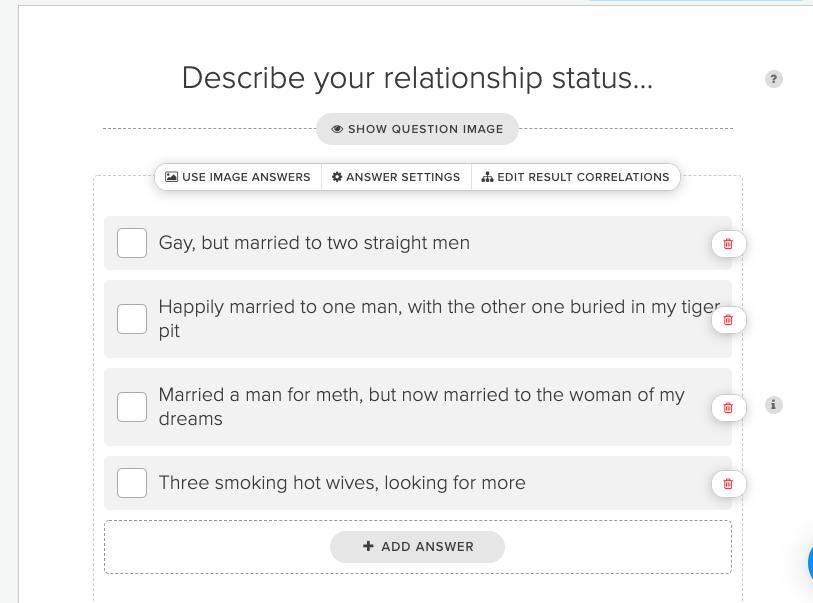 For each question, you can correlate an answer to a result. There's even a branch logic feature if you're feeling fancy and wanna get a little more complex.
STEP 5: OPT-IN AND INTEGRATION.
Once your quiz content is all plugged in, you've just gotta set up the tech and you're good to go.
If I lost you at "tech," come back to me. I am the least tech-savvy person in the world, believe me, if I can do this, you can do this.
In order to enable the quiz to capture emails and grow your list, you'll need to toggle the "Enable lead capture" to on.
From there you'll set up your opt-in form where you can adjust the settings for GDPR (they've really thought of everything!) and change the text and branding to match your quiz.
To integrate it with your email platform, simply choose your email service provider in their system or use Zapier. I use Flodesk, which Interact doesn't integrate with yet, so I just set up a few quick zaps (I did have to use a Youtube tutorial for this one) and it was ready to go!
Update: I've since changed to ConvertKit and if you've got ConvertKit then I have great news for you – no zaps needed, they have a direct integration with Interact!
STEP 6: EMBED AND SHARE
The last step will be embedding your quiz into your website or a landing page so you can share it. I usually struggle with this step with other platforms, but they made it so intuitive I had it embedded in a landing page in less than 90 seconds.
You may need to change the "height" in the embed code in order to optimize the quiz for mobile viewing. I changed mine to 900 for my Squarespace site. (I don't actually know what that means, that's what my husband told me to say because that's what he did with my landing page.)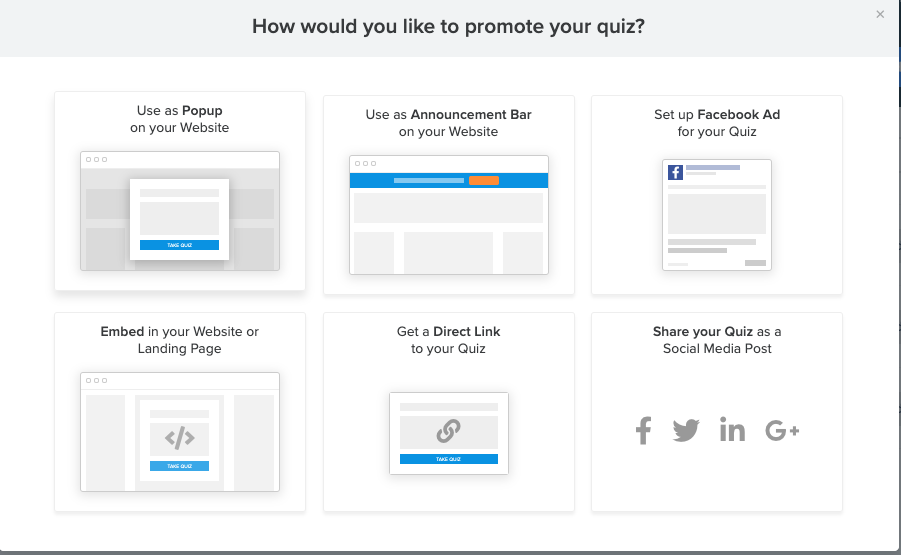 Well look at you, you little tech goddess, list-growing maven. You just created a quiz!
Now what…
Well you gotta promote that shiz. Here are a few ideas for getting your quiz out there in the world and into your dream audience's inboxes:
📣 Share it on social! Quizzes are some of the most shareable content out there. Post on your FB Business Page, on your wall, in your FB Group, in your IG feed, on IG stories, make your link the CTA in your IG bio.
📣 Facebook ads. You can push some cash dollahs behind your quiz if you want, quizzes will get you the lowest CPL of any other lead magnet.
📣 Share it in a blog post. Kinda like this one!
📣 Add it as a pop-up or an inline bar on your website!
📣 Ask your friends to take the quiz and share their results.
ANALYTICS
My favorite part about Interact is their analytics. They get that quizzes are fun, but their main job is to be a workhorse for your business. With their in-depth analytics you can easily see exactly how well your quiz is converting, the results people are getting, where readers are dropping off, how long it takes a reader to complete the quiz, etc.
Using this information you can tweak and edit based on actual data, not guesswork. And the editing and updating process could not be more simple, so there's no reason why you shouldn't be able to to tweak to perfection!
Bottom line: quizzes are powerful list-building market-research tools, they're a lot of fun for your audience, and they're a lot easier to create than you thought.